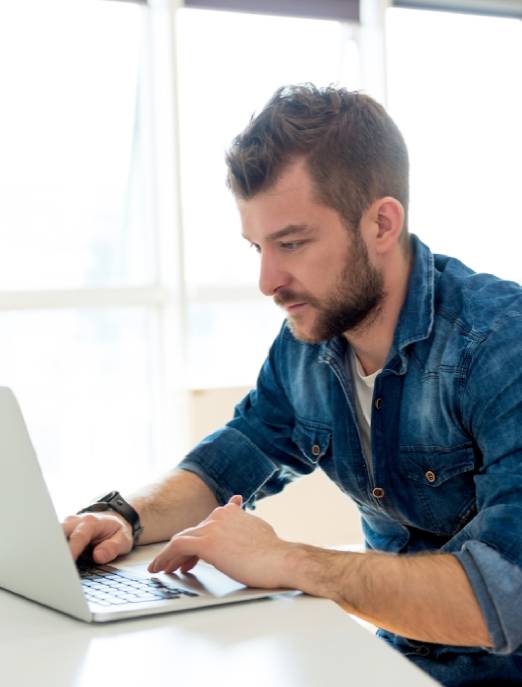 ABOUT US
UNDER-PROMISE,
OVER-DELIVER
What are Anytime Offices and what do we do?
Anytime Offices is a new coworking, serviced office provider in Sydney. We create modern, functional ergonomics workspaces equipped and ergonomically furnished including the latest technology. Our centres benefit from modern design and are always well presented. We love what we do, and we do it with pride and passion.
We also provide you with a virtual address for all your communication needs. A virtual address will help you to better connect with your associates and customers as well. The virtual address can be used for all your communications including emails and couriers as well. Now you can enjoy the perfect corporate environment to accommodate your clients at a price that won't break your budget.
Our Service
Professional working space with comfort and luxury
Highly trained, dedicated reception staff and personalized administration support
Facilities and access on areas like lobby with a cafeteria, parking areas, meeting rooms, conference rooms and recreational area
Private individual office with 24/7 access
Unlimited fibre optic connection
Perks of choosing us
Enjoy access to IT Infrastructure like Large Multinational Corporations at a fraction of the cost.
24/7 onsite technical services to help with technical issues.
Ample parking area, common lobby, reception, meeting rooms etc.
Options available for office rentals based on business needs and requirements.
Our Mission
The biggest reward for us is to see our clients grow and succeed. We are the experts in this field, and we provide office space on a rental basis. Now improve your business' bottom line without spending much on office rent by choosing office space for lease from Anytime Offices.
Anytime Offices has the best coworking offices for rent throughout Australia. Leasing office space is an easy option that provides a business with the chance to rent in an area with a great location. If you're a small business that is dependent on location and image, such as retail or corporate, having the availability of a leasing option is a perfect cost-effective solution. Anytime Offices is the leader in the industry of office space providers in Sydney, Australia. Our offices for rent are fully equipped with all the major amenities.
Join our community and hire office space to experience the place where you will do your best work.
Leading Office Spaces – Office Space for Lease with Modern Amenities
Entrepreneurs and start-ups know that one of the most difficult fixed costs with any business is office rental, especially in Sydney. Your business needs offices to look professional, to host meetings and, obviously, to work. Unfortunately, the cost of offices for lease can eat up a big chunk of your business budget. That's where a co-working space with serviced offices can come in handy, no matter how big or small your budget is.
Business Address: Having an office in a co-working space allows you to have a physical business address in a great part of town for extraordinarily little money. If you could afford a CFO, they'd give the concept of using a co-working space as a business address a big thumb's up.
Meeting Space: When you schedule a meeting, don't plan to meet up at a coffee shop. Look the part of the C-level executive and rent a well-appointed conference room or serviced offices for an hour or two. Not only does it increase your professionalism, but it's also a quieter environment for an important meeting.
Dedicated Desk: You may prefer to work from home, but that can get boring after a while. A co-working hub facility with a serviced office space allows you to rent a dedicated desk for your choice of hours per month. This is perfect to ensure you get a change of scenery while working towards world domination.
Part Time Office: If you need the ability to shut the door and work in private, try renting a serviced office space a few hours a month instead of simply a desk in the open space of the co-working office.
Private Office: Co-working spaces even let you rent private offices. While office rental is the most expensive option, it is just one office and much less expensive than if you rented a suite of offices with a reception area by yourself. It's perfect for having your own working space, with the ability to socialise with others when you leave the room.
Get suitable office space for lease at Anytime Offices. We are the leading providers of office rental in Sydney. If time and money are both important to you as you start your new venture, check out our co-working office spaces located in 3 convenient locations in Sydney.
LOCATIONS
WHERE DO YOU DO
YOUR BEST WORK?
Flexible workspaces
Diverse community
Convenient amenities
Latest technology
Friendly, professional team
We create the atmosphere of positive, welcoming environment where the best work is done.
Check out one of our conveniently located centres and talk to us about your workspace requirements. We can provide solution for your evolving business.
If you are a building / space owner, speak to us about working with us to customise your space to cater to smaller businesses and potentially maximise your returns by offering flexible workspaces. Call Robert today on 0477910288 for non-obligation discussion.
WHAT OUR AWESOME CLIENTS SAY
Andrew Casley
If your looking for a felxible, professionally managed work space in Sydney …. THIS IS IT !!
FoodFX
Claudia Leung-Soon
Moved into Anytime Offices in Botany in December and have not looked back. It's an amazing place to work, the staff and the facilities are second to none! Jacob, Michiyo and Robert are so helpful and friendly I cannot fault them. If you're working from home or thinking about moving offices, look no further!! I would Highly recommend Anytime Offices to anyone working in any industry.
Easy Paperwork
Rebecca Adhill
Once I stepped into Anytime Offices I knew this was the right office for me. It's modern, clean, great vibe ad a group of like minded Rebecca Adhillpeople that are all driving their business to nothing but success. Jamie and Robert are both so friendly and helpful, I can't praise them enough. Thank you for making my second home close to my favourite home! 😉 Looking forward to a big 2017 with you all.
Fitjak
Rob Kardos
I have been a serviced office customer of "Anytime Offices" for some time now. The staff are excellent and always available to assist with any issues that may arise in the day to day operations of serviced office customers which would be expected in an office environment of any large office. The tenants in the Anytime Offices are friendly and there is a good mix of business on the floor which allow for business networking that otherwise would not be available in a normal office environment. The rates provided by Anytime Office for space and services are very competitive and it has made my business activities much easier and smoother to manage. I highly recommended "Anytime Offices" to any business that is looking for a central location and all the benefits of a large office set up
KJR Developments
Ming Ting-Little
Superb office space in a great location. Excellent team of staff, who are very attentive to your needs and always accommodating. My business has thrived since moving in. I highly recommend Anytime Offices and their team.
Lux Education
Mark Swain
From the moment I arrived and after a big leap of faith, Robert and Jamie have made me feel sure it was the right decision. Their combined attitude and attention to detail goes above and beyond and will guarantee them success in this great place to work. Suggest you check it out if in need of flexible or permanent office space in a motivating environment.
Solutions Zane
GET IN TOUCH
WE WOULD LOVE TO
HEAR FROM YOU