Book Fully Equipped Meeting Rooms - Conference & Boardroom Hire Sydney
Striking a Balance: WFH and Commercial Space Hire
The movement towards a more flexible and decentralised work environment can be attributed to advancements in technology, changing attitudes towards work-life balance, along with economic conditions. And while work-from-home is a fantastic solution, often, business needs to be conducted in more professional spaces such as a meeting or conference room.
What are On-demand Meeting and Conference Rooms?
On-demand meeting and conference rooms are flexible workspaces that are designed to meet the needs of modern businesses, freelancers, and entrepreneurs who require a professional work environment for a temporary event but do not want to commit to a long-term lease.
Whether you're hosting a client presentation, a team training, or a brainstorming session, booking a fully equipped meeting room in Sydney has never been easier. With Anytime Offices, businesses of all sizes can find a space that meets their needs and budget.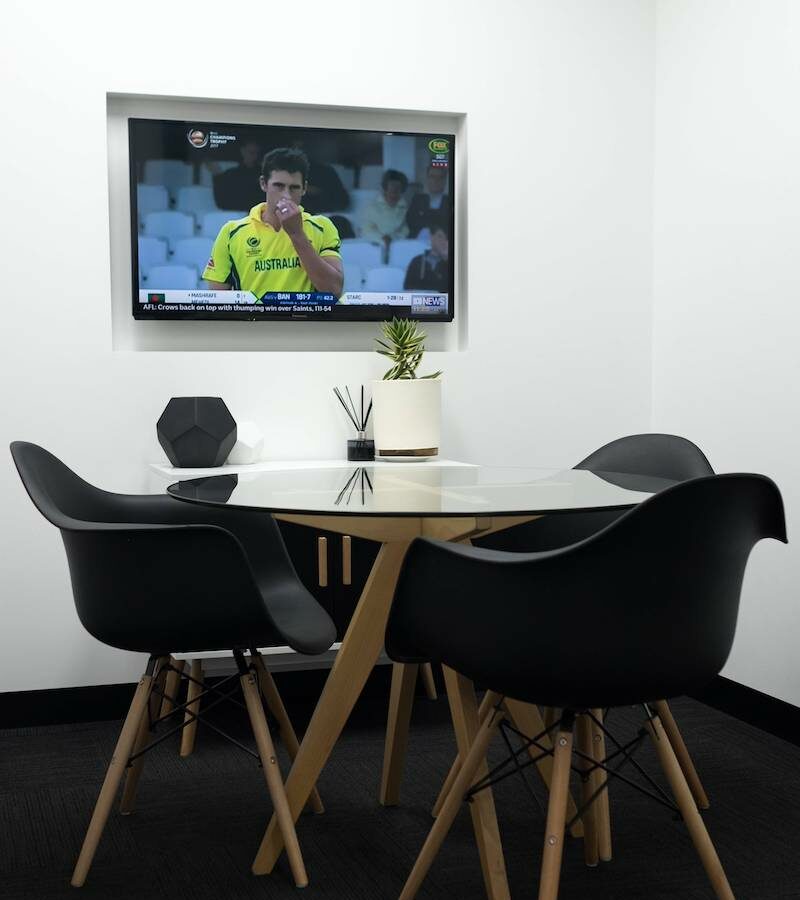 Why You Should Consider Using Conference and Meeting Rooms for Hire
Coworking spaces like private offices, hot desks, and meeting and conference rooms provide numerous benefits for individuals and businesses alike. Here's why you should consider using one.
Increased Productivity and Creativity
Working from home or in a traditional office setting can often be distracting, with interruptions from family members, household chores, or coworkers. In contrast, coworking spaces are designed to provide a professional and focused work environment free from these distractions.
Networking Opportunities
By working alongside professionals from different industries, you can expand your network and meet potential clients or collaborators. Working alongside a diverse range of professionals can also lead to greater collaboration and idea-sharing. This can spark new ideas and creativity, leading to more innovative solutions to problems.
Improved Work-Life Balance
Working from home can blur the line between work and personal life, leading to burnout. Coworking spaces can help you achieve a better work-life balance by providing a separate workspace away from home.
Professional Image
Traditional offices can be expensive to furnish and decorate, and working from home can sometimes be unprofessional. Coworking spaces provide a ready-made professional environment, complete with modern furnishings, meeting rooms, and other amenities.
Why Pick Anytime Offices?
At Anytime Offices, we understand your challenges and offer several solutions to support your business.
Already have a home office but need to entertain clients in a more professional environment? We provide multiple spaces–private offices, meeting rooms and conference rooms–for hire by the hour or for a day. Pay only for what you use and get access to business-grade amenities such as technology and equipment hire, fast fibre-optic internet, utilities, payG services, and PA and admin support.
Need to connect with a mixed workforce but not sure how? Our meeting and conference rooms are set up to enable HD video collaboration via Zoom. You can interact with your employees or clients in person and online in real-time. Our technology set-up includes a TV with HDMI cable facility, Chromecast and Apple mirror capabilities, and super fast internet (with backup). Our meeting and conference rooms come with 2.4m blackboards, fluoro markers, and access to business-grade printers/scanners/copiers, the latest telephony solutions like VoIP and more. Elevate the collaborative atmosphere with catering options or high-quality refreshments such as still or sparkling water, coffee/tea, and snacks that we provide at no extra charge.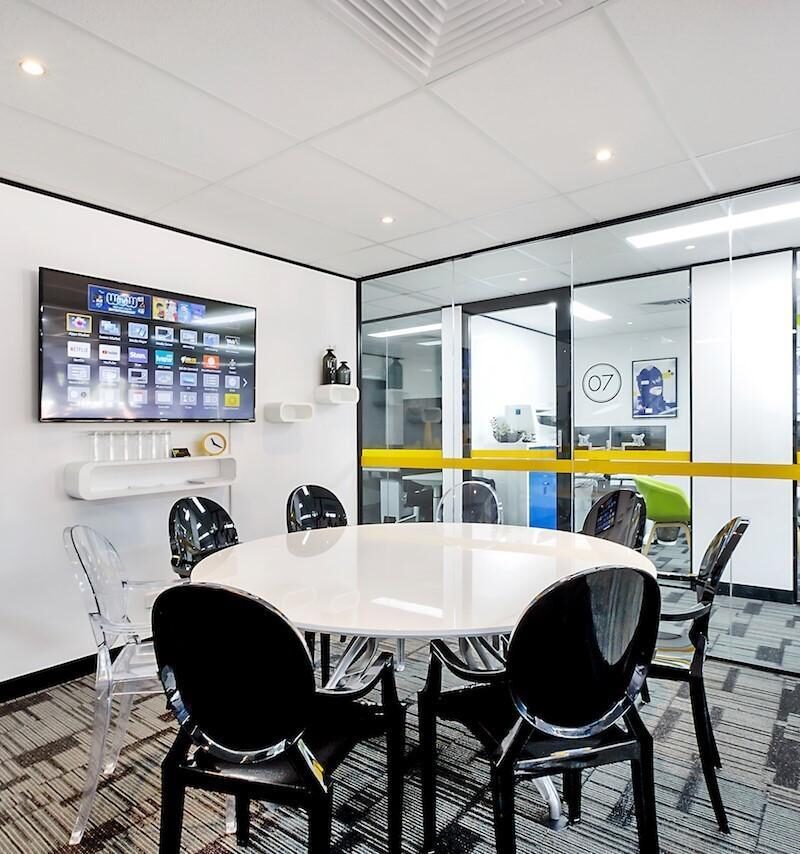 Can't predict how often you'll need a business workspace? We offer various membership plans that allow you to choose the level of access you need, whether it's a full-time desk or occasional access to a meeting room. This flexibility is a cost-effective way to have a professional workspace without the high overhead costs of leasing an office.
We're excited to see your interest in our services–whether it's private desks, meeting rooms or conference rooms for hire! Contact us now to enjoy the perks of being in one of Sydney's premier commercial spaces. At Anytime Offices, we strive to support your business success and can't wait to partner with you.