Leading Private Office Space for Rent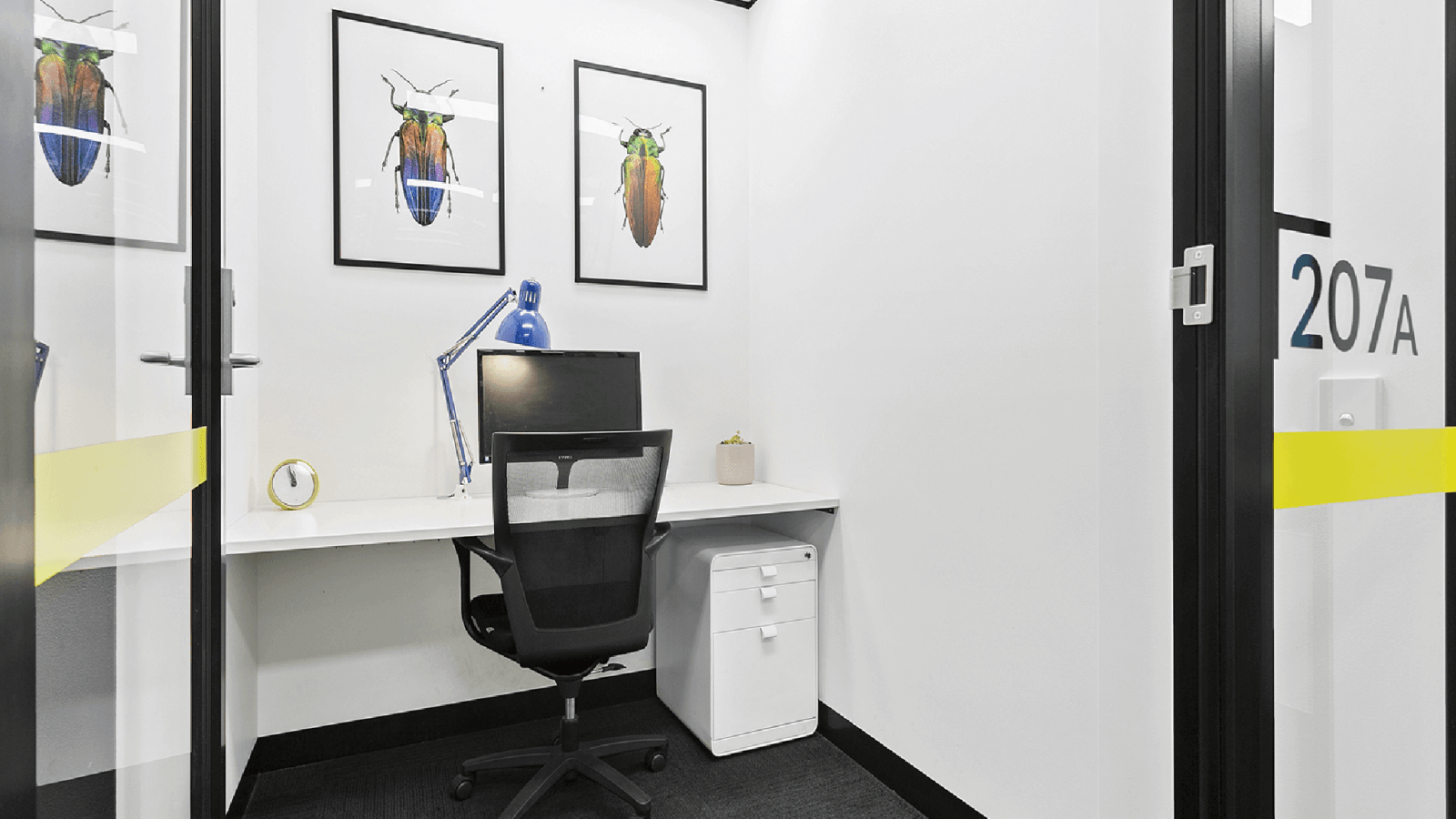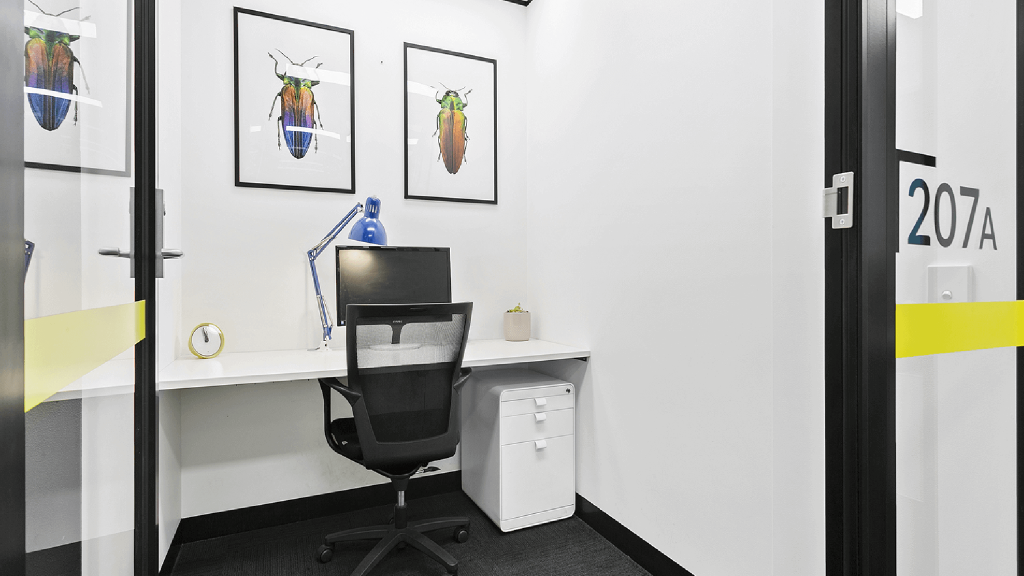 Searching for a private office for rent near you on Google? Anytime Offices is one of the leading private office space providers in Sydney. Our private office is designed with a contemporary and modern look to provide our clients with the right ambience and working environment to work efficiently. Our private office for rent is accessible to all our clients from small to big business with office essentials equipped.
Why rent a private office?
Unlike other businesses, not all businesses need a permanent land capital for business work. Here is why you should choose to rent a private office:
Location – When you rent a private office space, you don't have to settle in a messy area, you get a space in the prime location and completely relaxed interiors.
Flexibility- You can book your private office for any given time. You can rent it for your work or can rent it for a client meeting given the availability of the space.
Lesser work- With office there are many responsibilities indeed. Organising and cleaning your private office is a task. But when you hire a private office for rent you don't have to worry about anything other than your work. At Anytime Offices, we look after everything from maintenance to security.
Save on expense- When you own an office you must purchase furniture, cabinets, and other essentials so that both you and your employees can work efficiently, by renting a private office, all office essentials are included in your package. You don't have to pay extra even for reception services.
Connections- You can connect to many other professionals. At Anytime Offices there is the diversity of many professionals from various industries to work and collaborate.
Why choose Anytime Offices?
By choosing Anytime Offices to hire a private office space for rent, you enjoy the following perks:
Within your budget- Our private offices are accessible for businesses of all sizes. If you are a brand, business, retail, start-up, or a freelancer, we have space for all without burning hole in your pockets.
Reception Support- When you purchase a full-fledge office, reception is an important aspect of your office to maintain records, answer the calls and more. We provide reception support as well and a receptionist who can answer the calls on your company's behalf and perform other receptionist tasks.
24-hour Office Access- When you hire an office space, you get complete access to your office for the whole day. You get complete authority on the space and manage your employees and work accordingly.
Other facilities- You not only get access to the office space and essential but also to meeting rooms, cafeteria, breakout areas, unlimited internet and more.
Anytime Office is a family of many happy clients who always chose us first whenever they want a private office space for rent. Our team in Sydney strives to upgrade our services to assure quality and customer satisfaction.
Want to know more or book our services? Dial 0283789111 and talk to our experts today. You can also write us a mail at info@anytimeoffices.com.au or visit our website and fill the enquiry form.
INCLUSIONS
WHAT IS INCLUDED IN THE SERVICED OFFICE PRICE?
Furnished office space
office rent and 24/7 access
furniture as displayed in the office
flexible furniture layout
easy to re-configure to suit your needs
Latest Technology
unlimited fast fibre-optic internet (100Mbps in Botany, 500Mbps in Randwick and 1GB in Pagewood)) + back adsl line
admin station (printer/scanner/copier (100 impressions free every month)
on-site IT support
Business grade multi-function printer – scanner –copier with 100 impressions included every month
telephone line at no cost with local and national calls included
Access to the centre facilities
waiting area and generous breakout areas
access to other facilities and services including meeting rooms, casual day offices, listing on client directory board, on-site and off-site storage, bike racks and motorbike parking (Randwick), showers
We also have a telephone booth available free of charge to all clients (Randwick)
Serviced business centre set up
on –site business support
reception team welcoming your visitors
calls answered in your company name
daily cleaning
serviced kitchen facilities including complimentary refreshments (great selection of top quality tea, freshly ground coffee roasted locally in Sydney, fresh fruits and chilled water and elderflower water)
business address and mail management service
maintenance
Property cost
utilities, electricity, water
rates and property charges
security
air-conditioning including weekends and public holidays
Value added
advertising space on marketing stand in the reception area
networking opportunity with like-minded business professionals
brand new fit out
brand new air-con
brand new LED lightingüimproved soundproofing
exceptional presentation standards
superior customer service
preferred membership rates with Bayside Business Enterprise Centre
FEATURES
WHAT MAKES US DIFFERENT
All -inclusive pricing
Our pricing is transparent and loaded with inclusions: meeting rooms, internet, telephones, printing to name a few.
Flexible approach
Our terms are flexible. You can book our offices for an hour, a day, a month or twelve months or more.
Good old-fashioned cleaning
We believe in good old-fashioned cleaning and we make sure that our centres are presentable at all times.
Friendly support team
Our team are professional and friendly. We make sure that you and your visitors feel comfortable. We build community in our centres
Low start-up cost
Low deposit / bond. Set as an equivalent to six weekly office fees.
Individuality embraced
We encourage individuality and we welcome your branding. We will help to customize your office and support your local marketing.
Super-fast internet
We offer unlimited fibre optic internet connection in every centre and the IT infrastructure is supported by the local IT team. Individuality embraced
Free meeting rooms
2-hour free access to a meeting room or a day office every month for office clients.
Local focus
We do our part for the local community including supporting small businesses and charities as well as working with the local council
Networking opportunities
You will benefit from preferred membership and networking event rates at the Bayside Business Enterprise Centre.
Weekend air-con
We run our air-conditioning on weekends and public holidays for those less fortunate who work on those days.
Complimentary refreshments
Top quality freshly ground coffee beans, selection of organic tea, chilled water, elderflower flavored soft drink, fresh fruits and healthy snacks.
Free telephone line
Free landline telephone number available. Pay one -off installation fee to enjoy convenience of your desk phone or soft phone on your mobile or laptop.
Collaboration
We will introduce you to other businesses in the centre and to our connections from outside.
Part-time offices
We offer part-time and multi-site flexible office and co-working solutions.