Serviced Office Space to Rent in Sydney
What is a Serviced Office Space?
A serviced office space is a fully furnished and equipped office space that is managed and maintained by a serviced office space provider, like Anytime Offices.
Serviced offices for rent are designed to be flexible and convenient, with short-term leases and the option to expand or reduce the amount of space as needed. In addition to convenience and flexibility, serviced offices for rent are also a cost-effective option for businesses of all sizes, as you can budget effectively with no hidden costs or surprise expenses.
For these reasons, renting a serviced office space in Sydney offers individuals, remote workers and businesses flexibility and a cohesive working environment.
A serviced office space provider, like Anytime Offices, offers a range of amenities and services, including reception and administrative support, high-speed internet, telephone and mail services, meeting and conference rooms, and access to kitchen and breakout areas.
We also bring you some of the finest and most professional serviced office spaces in Sydney. You will enjoy 24/7 access, stunning views, a modern interior, ergonomic furniture including stand-up desks, access to meeting rooms, breakouts, and unlimited refreshments such as ground coffee, T2 tea, etc.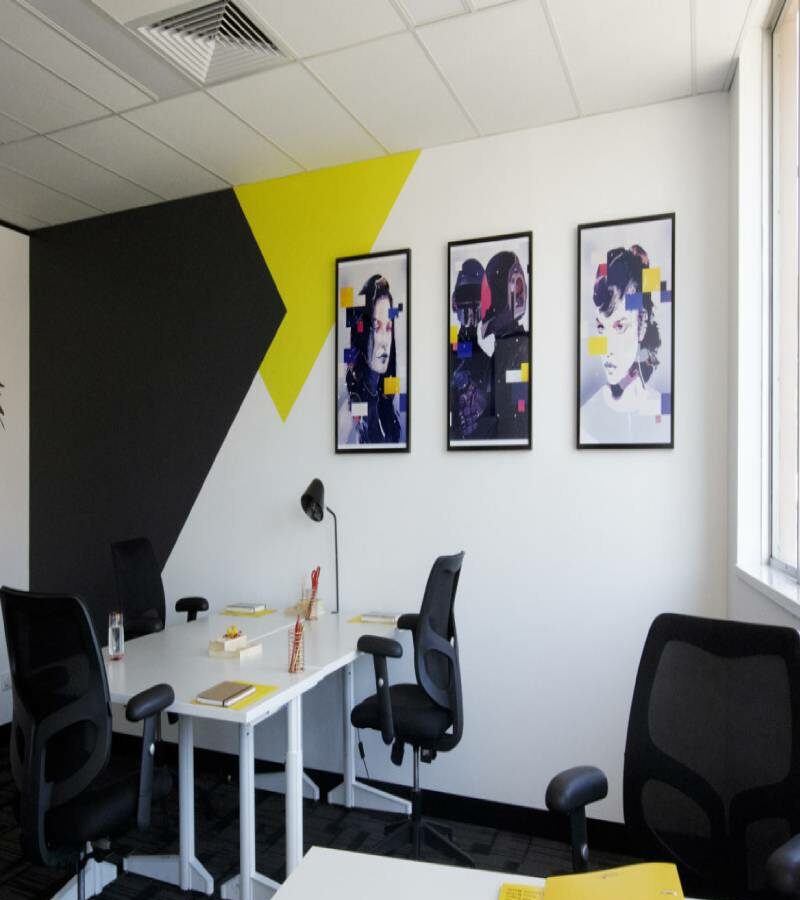 What Does our Serviced Office Space to Rent Include?
At Anytime Offices, we recognise the importance of prioritising mental health without compromising on cost-effectiveness. That's why we strike a balance in our interior designs. We balance out the stone and metal, sharp edges, and neutral colour schemes with natural plants, plush furniture, overstuffed chairs, cushy rugs, vibrant artwork or furnishings, and even ergonomic furniture.
By incorporating these softer elements, we create a welcoming and relaxing atmosphere for you and your employees in our furnished office spaces while maintaining a professional appearance. These aesthetically soothing features help alleviate the stress and anxiety that are often associated with our fast-paced business world.
We provide efficient reception support, including answering calls and greeting visitors. Our professional business address and mailing system are sure to support your business. We also provide necessary onsite IT support with our exceptional IT team.
With Anytime Offices, renting a serviced office space in Sydney guarantees access to a flexible and open-plan workspace with modular and ergonomic furniture, versatile seating options, ample breakout rooms, cafeterias, recreational areas, meeting rooms, and more. All this comes at a fraction of the cost of leasing an entire office space.
We also offer a range of options to suit your communication needs. Whether you prefer the privacy of a private office, the collaborative environment of a shared space, or the relaxed atmosphere of a breakout area, we have you covered. We also provide unified communication technology, including high-speed internet, VoIP, video calls, and more, so you can easily connect. With so many options available, you can choose how you communicate, whether it's with fellow digital nomads and entrepreneurs in a casual setting or in the comfort of your own private office.
But that's not all. Our team is dedicated to making your workspace feel like your own. We can customise the space to match your corporate colours and even install your logo on the walls or wherever you need it. Should you require office equipment like glass boards, whiteboards, or other accessories, we are happy to provide those upon request.
So, instead of searching for a serviced office for rent near me, get in touch with our team now and let us know what you need from your serviced office space in Sydney. We are here to help you with the best of our services.