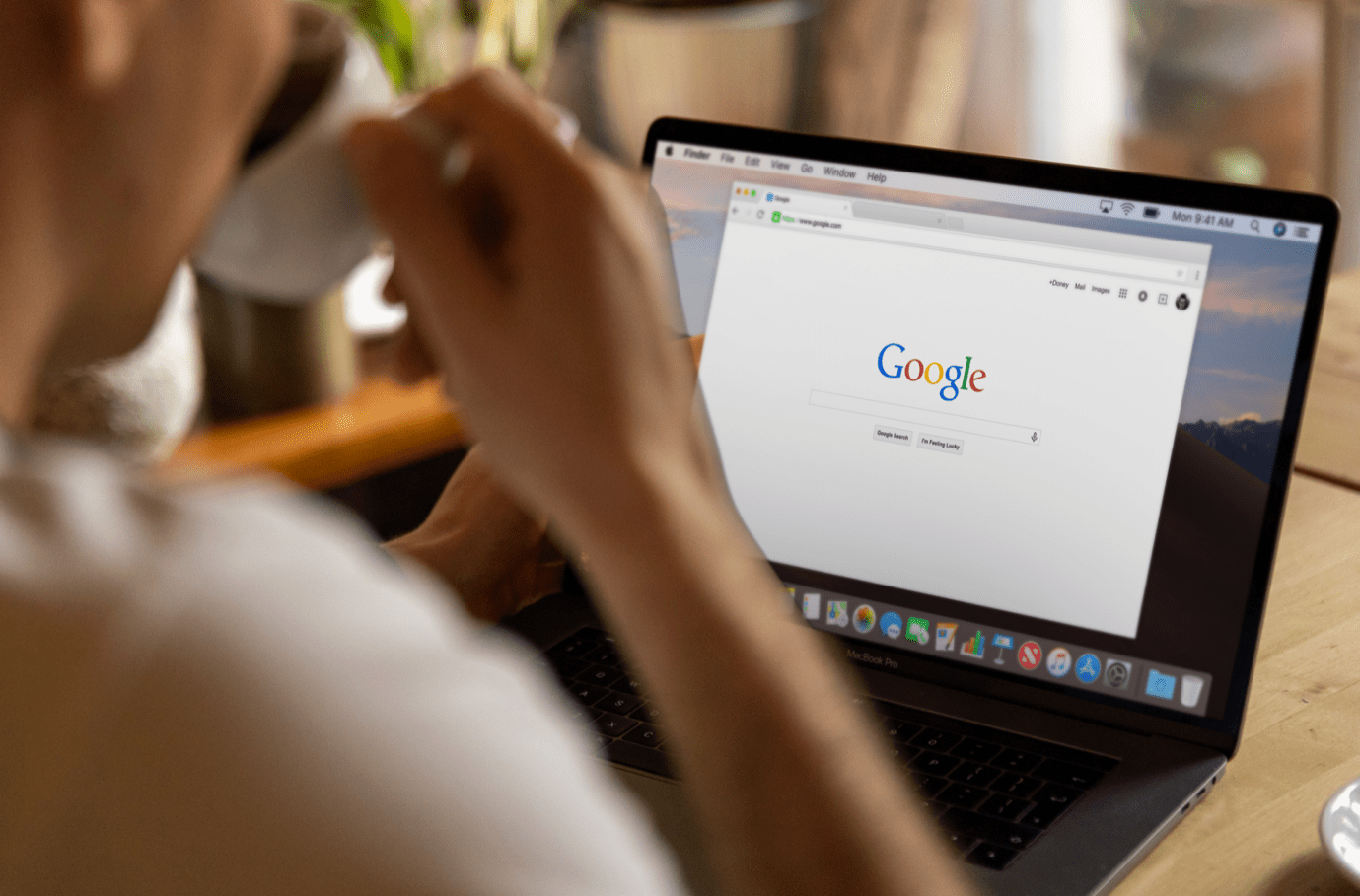 What is Google My Business? & Why do I need it?
When developing a local marketing strategy, one of the first steps to take is to create Google My Business profile and Google Maps listing. Google My Business is a free resource that allows business owners to claim their listings and manage how their information appears on Search, Maps, and other Google properties.
Where does your Google My Business listing appear?
The search engine results page (SERP) is the listed URLs on the left-hand side that you're used to seeing when you search for a business on Google. The segment on the right-hand side will either have a Google My Business listing or be empty.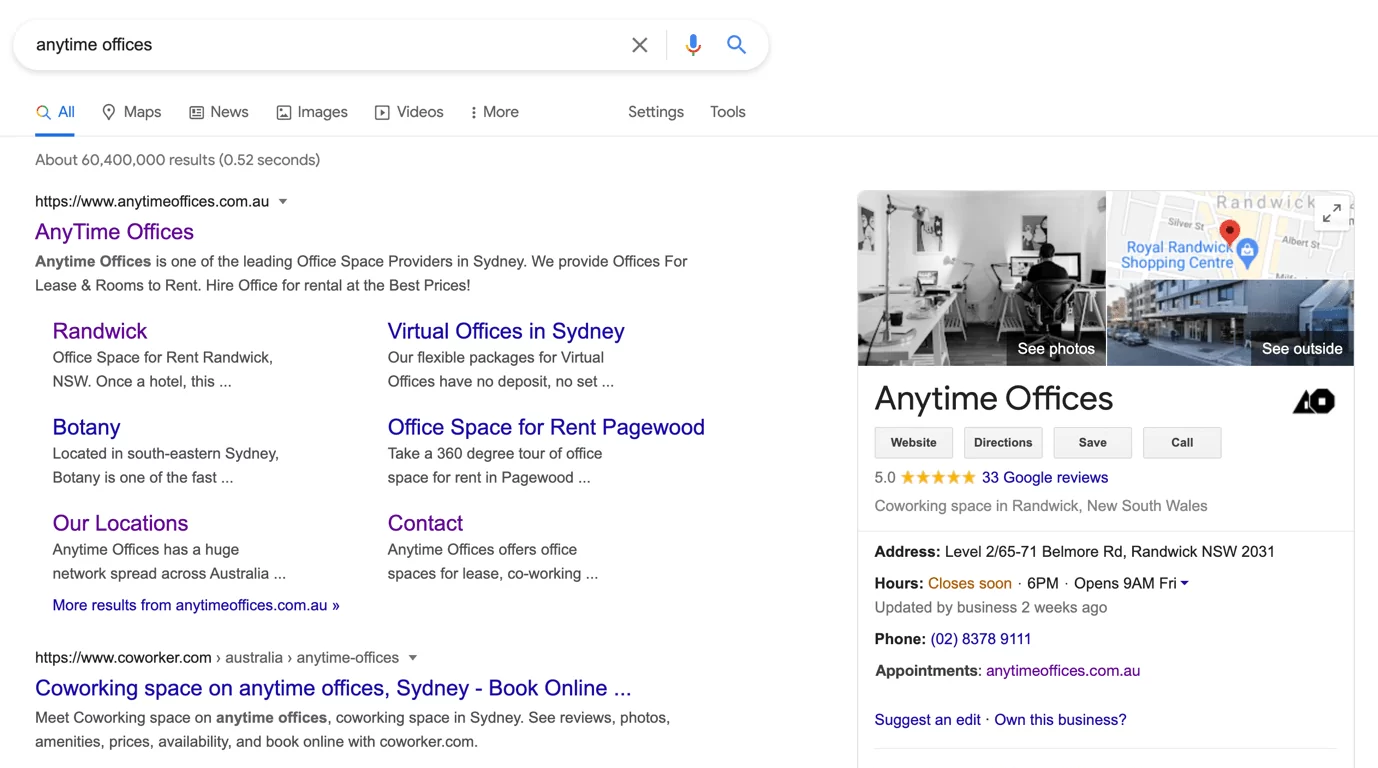 What happens when you claim a business on Google?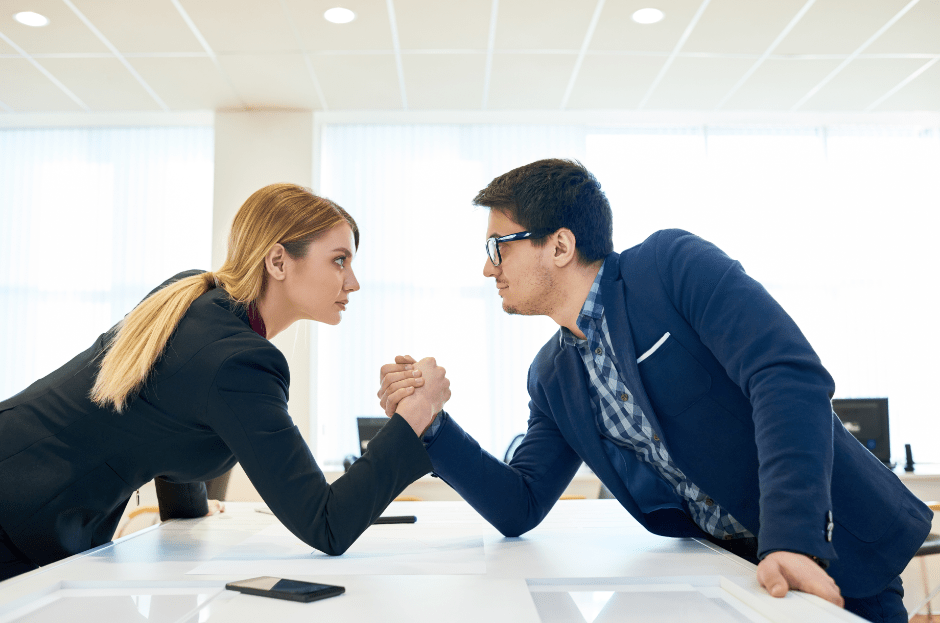 The truth is that claiming your business on Google and getting reviews directed to them is good for gaining new clients, but it's even better when it comes to staying ahead of competitors.
From a search listing viewpoint, having a claimed Google My Business account can increase the probability of appearing in Google's Local Pack, Local Finder, Google Maps and of course organic rankings overall. And it's vital for search engine optimization purposes for local search.
These are the central perks of a Google My Business account, and if that's not enough to persuade you, consider the drawbacks of not having one.
You risk losing customers. You don't have power over the information exhibited in your Business Profile without a Google My Business account.
You risk a poor reputation. You cannot respond to your Google reviews without a Google My Business account, which is a required segment of your Business Profile. Being able to manage reviews is a must, with them being both a Google ranking factor and the number one impact on consumer buying.
You lose out to competitors. An unfilled Business Profile is similar to having an unkept shopfront. Consumers will be much more likely to click on and engage with a Business Profile in the search results that has lots of appealing information and looks active.
You lose SERP real estate. Google ranks Business Profiles according to their level of quality, so a Business Profile alone is not enough. However, a Google Business Profile managed through a Google Business account can be optimized to rank above competitors for relevant keyword searches.
You risk competitors or malicious individuals claiming it for themselves. Once this happens, it's very hard, if not impossible, for the true business owner to re-claim power over their profile. These pirated profiles can exhibit incorrect information concerning your address, open hours, and phone number in order to confuse people who are actively trying to contact you or find your business' address.
Claiming your Google My Business profile
Follow these steps:
Establish your business address
Begin the Google My Business signup and ownership process
Verify that you own the business
Verify your Google My Business profile by text, phone, or mail
Step 1: Establish your business address
If you're reading this blog post, chances are you already have an address for your business. However, if you don't have a specific address, or work out of a specific location (perhaps you are a freelancer), or you work out of home and don't want to use your home address, a good option is signing up for a virtual office.
Many serviced office providers offer you a real address with a suite number for as little as $60/month. Signing up can all be done online, and so you'll have a professional business address you can use in a matter of minutes! These services also usually offer mail handling, which is important for when Google sends you the verification code via mail (more on this in Step #4).
Step 2: Beginning the Google My Business website ownership process
Most businesses have profiles already created for them, either by a preceding manager or by users through Google. However, if a listing doesn't exist for your business, you'll need to do a Google My Business sign up.
To create a business account, sign into the Google My Business website with Gmail or Google+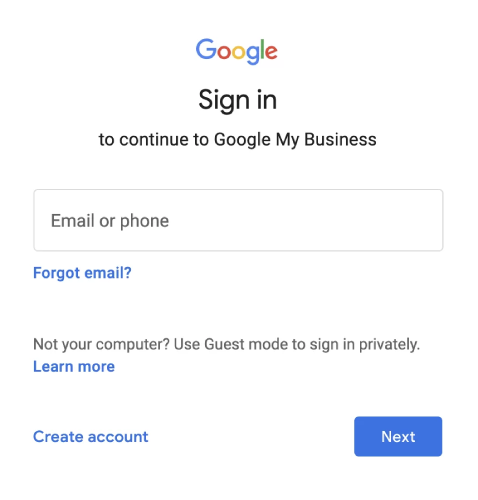 Enter your business name and fill-in all additional information required, including business category, address, and contact details.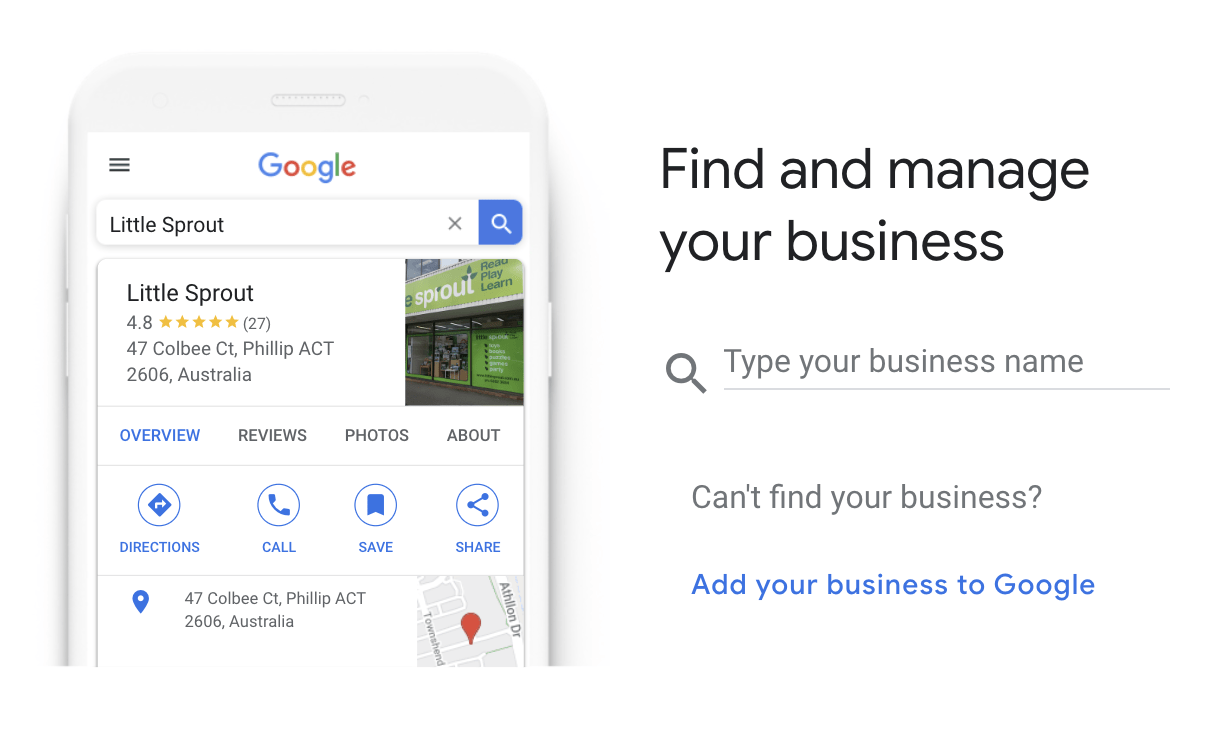 Once you reach the verification page, you can skip through to Step #4.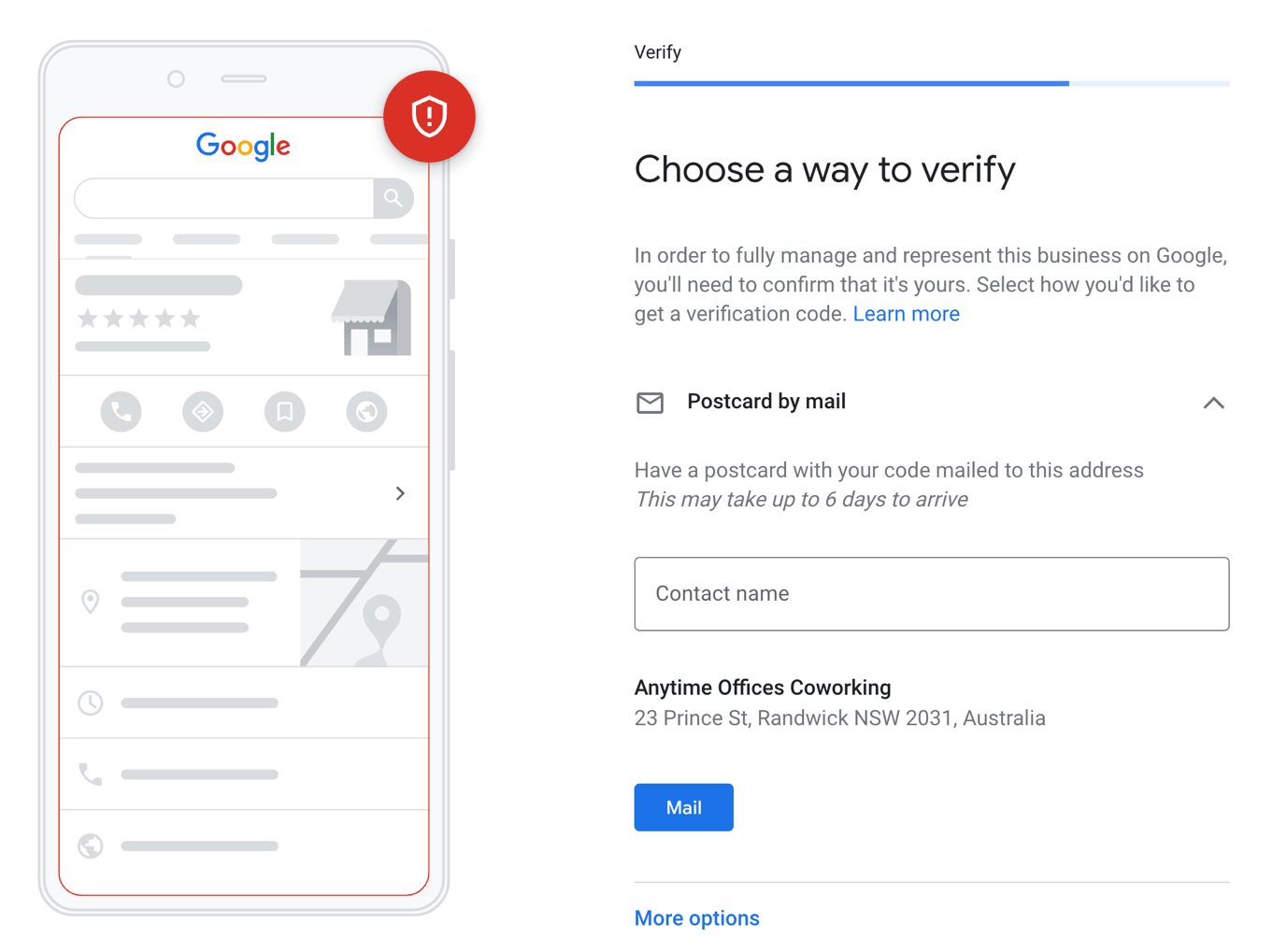 If a listing already exists for your business, you will see a selection saying "Own this business?" when you do a Google search.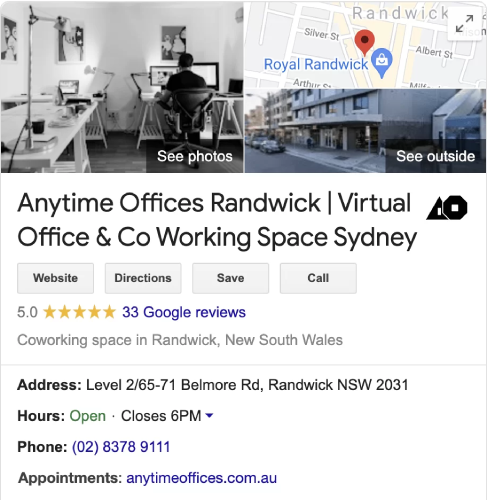 This means that the profile is open to being claimed and you can move on to the next step.
Step 3: Verify that you own the business

Once you click the "Own this business" prompt, you will be taken to a page where you click the button "Manage now".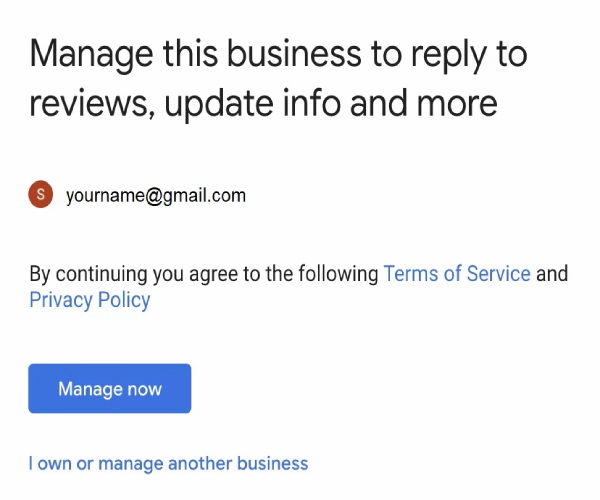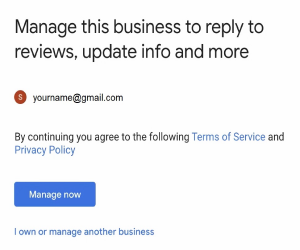 You'll see the business information that's already available on the account inside of this box. You'll also see your business located on the map, giving you a great opportunity to check out if any information is incorrect straight from this page.
If, however, your business has already been claimed, you will need to submit a request form to Google My Business support to gain access to the profile.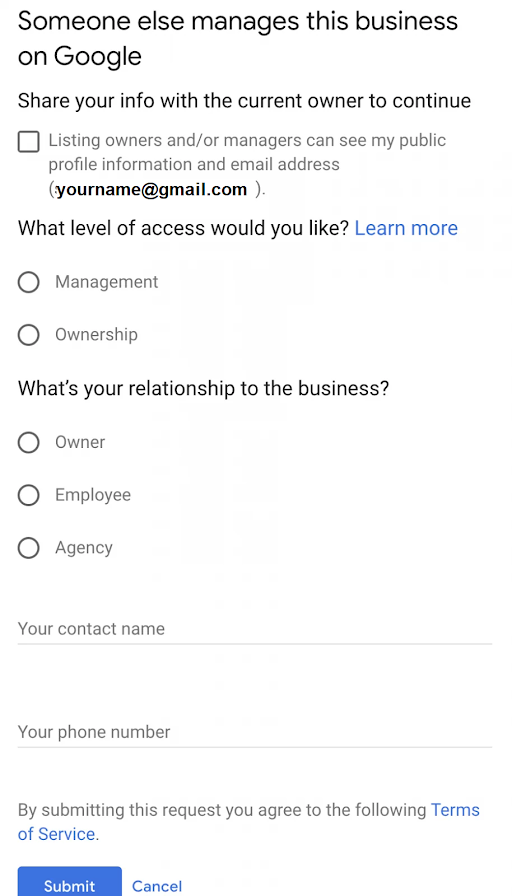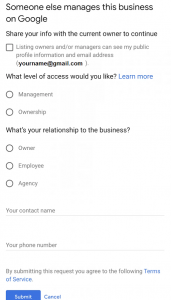 Step 4: Verify your Google My Business profile by phone, text or mail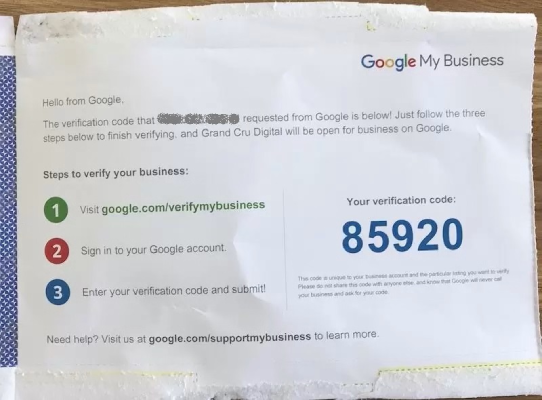 The verification is the third step you'll need to complete. Google will issue you with a PIN number that you will need to enter on your account. You can do one of the following to get the PIN:
By phone call or text – This selection will activate a call to go to the number already listed on the profile. If you cannot receive texts to this number, then you must select the 'mail' option.
Immediate verification – If you are fortunate, you'll get immediate verification.
Requesting a postcard – You'll be sent a postcard with a PIN number to the listed business address on your account.
Email – Some businesses are given the choice to receive the PIN via email.
Video verification – You can have a video call with a Google professional who will ask you applicable questions about your business.
If you've registered your business with a virtual office and you request a postcard verification, it will be sent to your chosen serviced office provider. Luckily these providers offer mail handling services so the minute your code arrives, it can be scanned directly to your email inbox. This is definitely an advantage over it getting lost amongst the mountain of letters stacked in your home mailbox.

What's in your Google My Business account?
You can see the following information and get access to all the mechanisms of your Google My Business listing now that you're verified.
Posts – This is a great way to show off more of your content and makes your listing look amazing.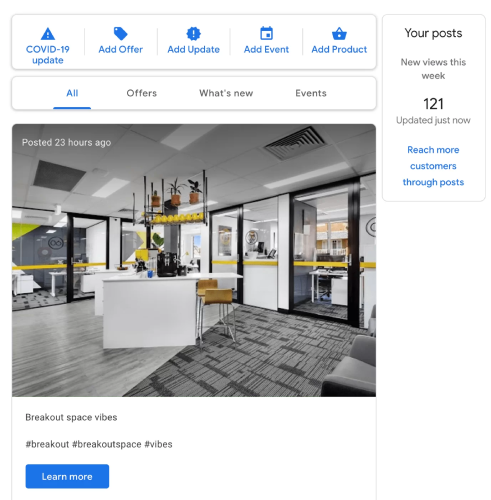 Reviews – Respond to your Google reviews.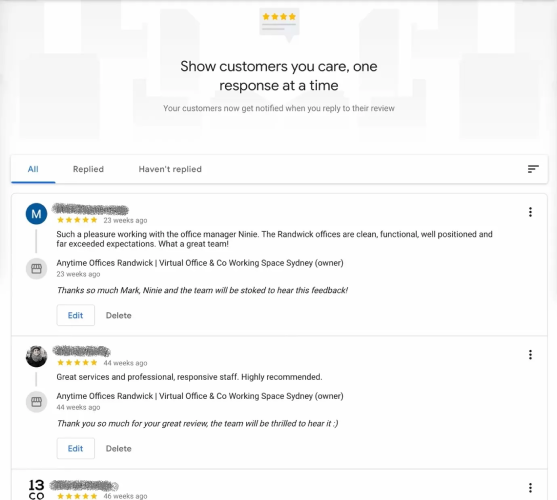 Website – Based on Google My Business information, create a free Google My Business website.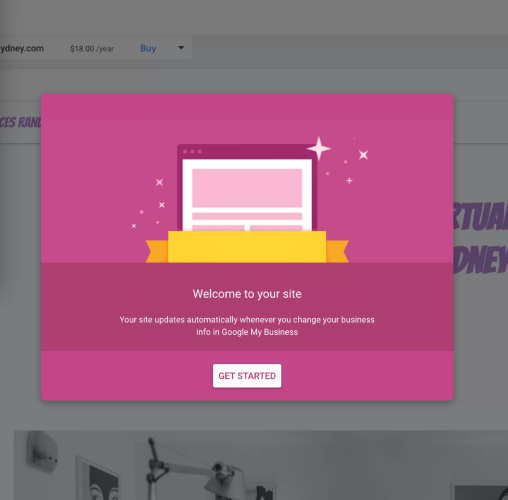 Manage multiple locations.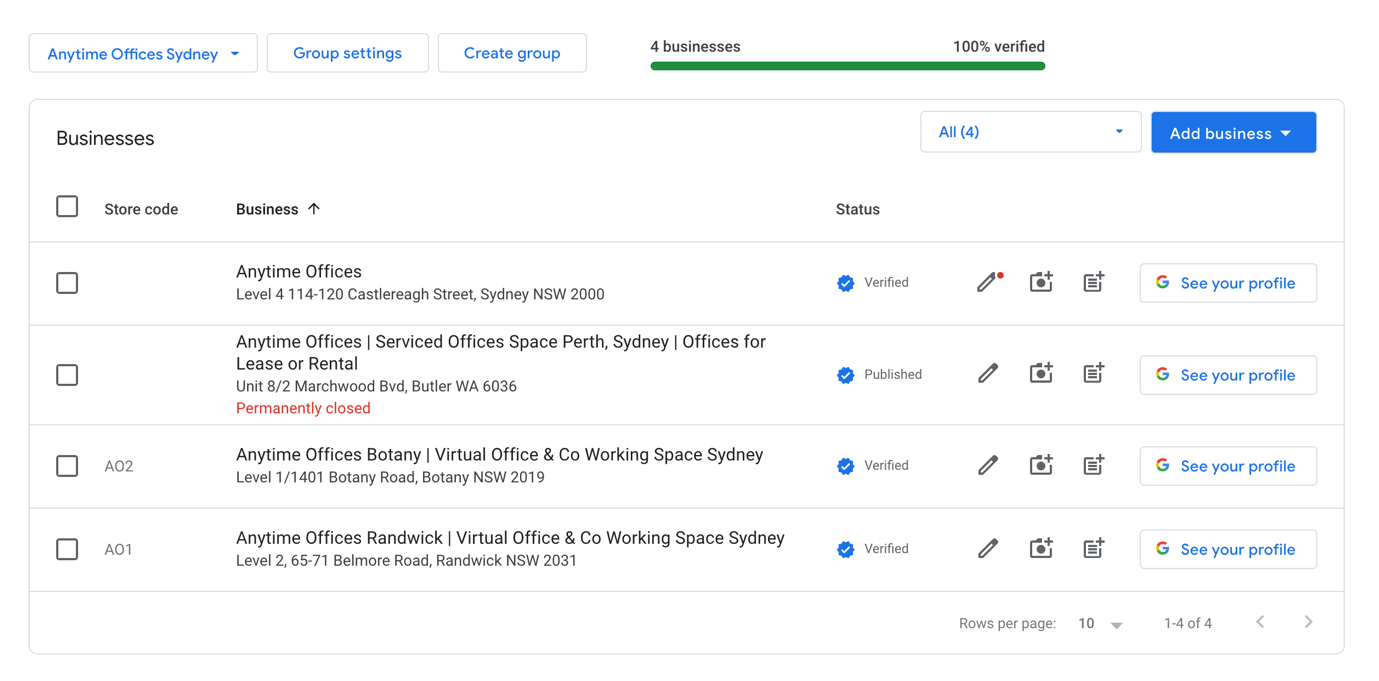 Information – You can add information about your business that you want customers to see.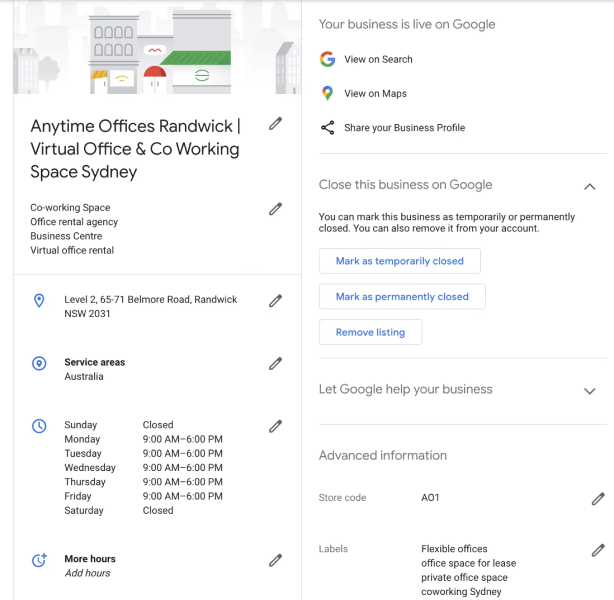 Insights –
Where customers view your business on Google – Maps or Search engines
Photo views and quantity – You should have a minimum number of images that people can view based on your industry
How customers search for your business – direct (people who search for your business) vs discovery (people who find you in a general search)
Customer actions – Request directions, website visits, when they call you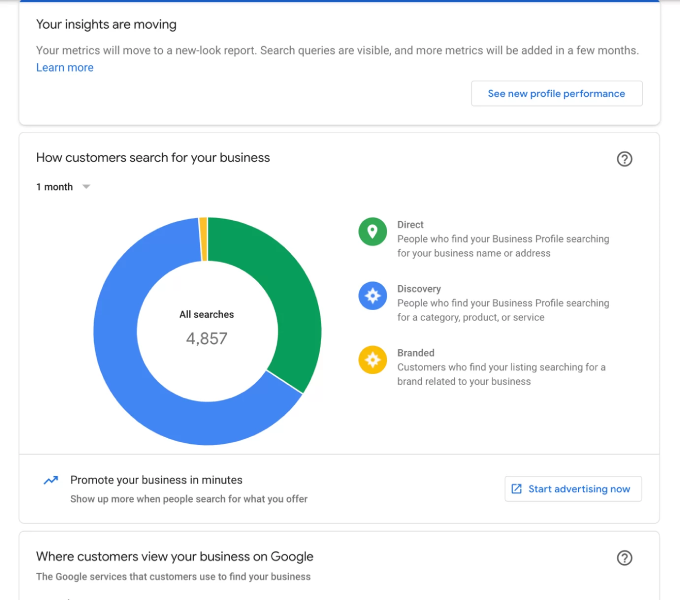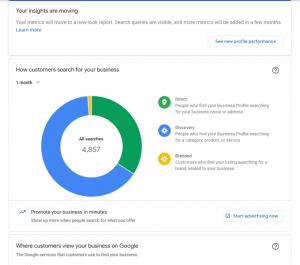 Photos & Videos – Add photos and videos to show off your business, team members and products/services.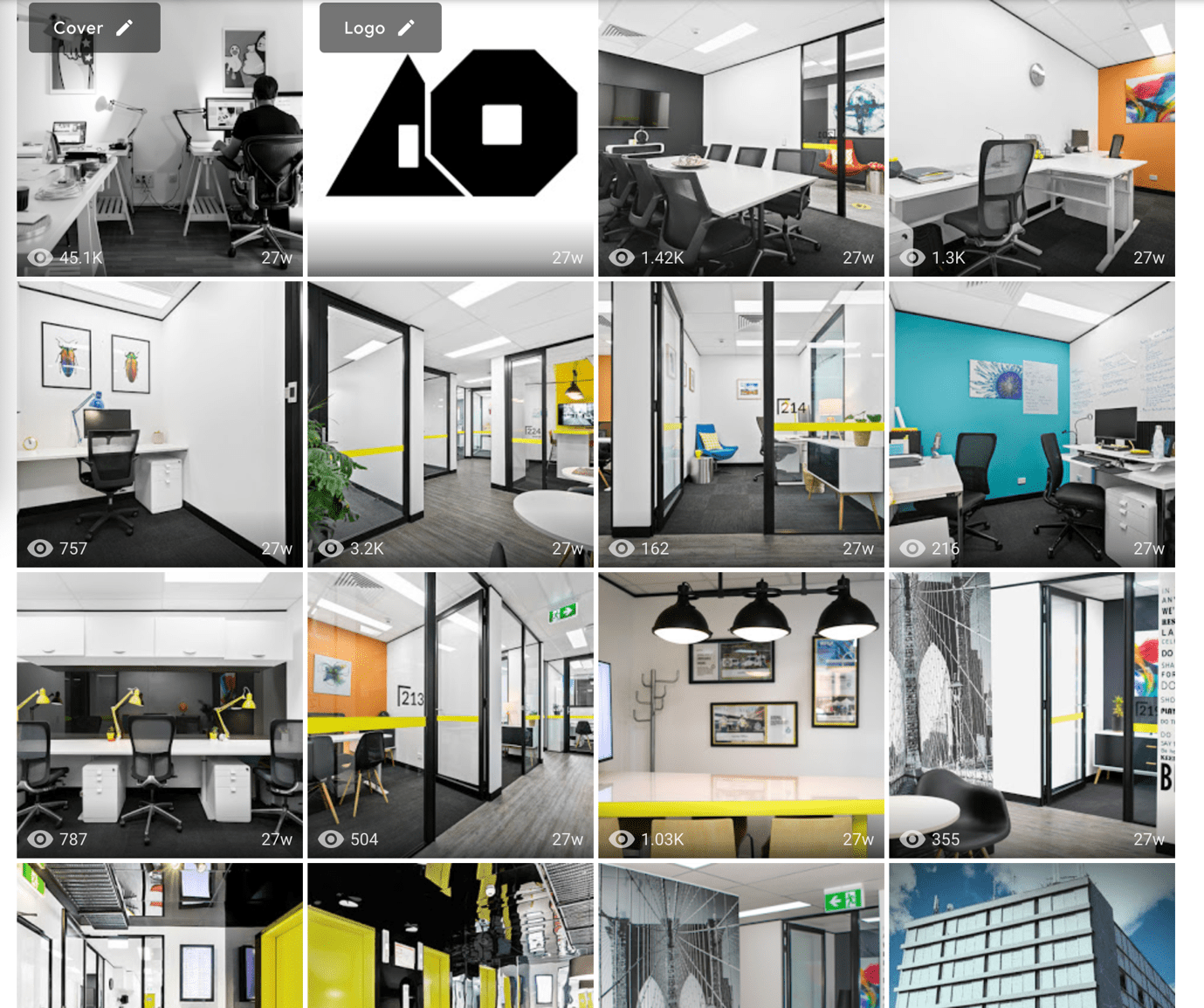 We're all about building up businesses and putting them on the map so they can outshine competition. Local search is hugely vital and that's why we love helping our clients claim their business on Google. It's such a simple resource, but it can have such a huge influence, helping deliver the right information about your business and showing you off in the greatest possible way online.
Visit the Google My Business website to verify and claim your business on Google.